~*Full review notes on
The Bent Bookworm
!*~
"Nothing from the ocean is meant to survive on land forever."
Feels
:
Satisfaction. I adored the resolution of this book. It's not a perfect happily-ever-after (HEA) and that makes ME so very, very happy. I'm a disgruntled, hard-hearted porcupine when it comes to love, and while I like endings with hope, only rarely do I completely get behind a tidy little HEA. FtDD has a very hopeful ending, but one that could go several different ways. I loved that.
Characters
:
It took me awhile to warm up to Bridey, I'll be honest. She is so defined by her fear of the sea that at first that is the only quality I saw in her. As the story goes on though, I came to genuinely like her. Lugh and Cat, her best friends, I wish we had seen a little more of. I felt sorry for them as she kind of abandoned them to go work with Morag and then in her absorption with Fynn.
Fynn is something of a mystery for most of the book. A lot of reviews I saw complained about the insta-love between him and Bridey, but to me it was believable BECAUSE from the very beginning, it's obvious Fynn is not just a normal human boy. Because of that, I feel like the insta-love is understandable and realistic – even though I usually DESPISE it.
Morag was my favorite character. An odd choice, I guess – but I loved her. I love that she was old and crotchety and hurt – both physically and emotionally, yet she was such a wise woman and genuinely cared about people. She was like a gingerbread cookie…crunchy on the outside but soft and delicious on the inside (that IS how you make your gingerbread cookies, right?).
Plot
:
FtDD starts off kind of slow, not going to lie. It's beautiful and haunting, but slow. The pace picks up about a third of the way through, and I was completely drawn into the Isle of Man world Sarah Marsh has created. I already wanted to visit but now I want to go even more!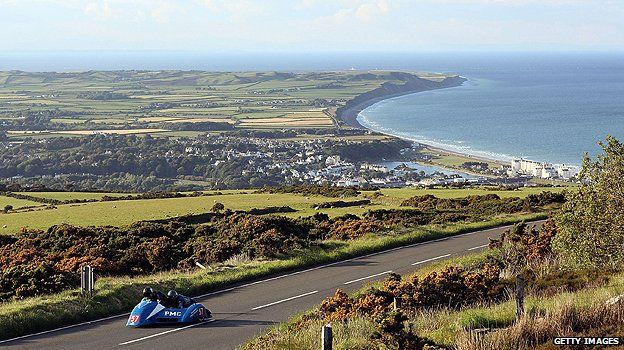 At first I thought I had misjudged the cover blurb and this was a historical fiction YA with some mythology thrown in…but no. It soon becomes apparent that all is not as it seems on the idyllic Isle, regardless of what the villagers want to believe. And of course no one wants to listen to the tales of old women or the vision of the young. No one wants to believe that maybe the faery stories are more than stories.
Worldbuilding/Description
:
Beautiful. Idyllic. Almost mystical and definitely slightly creepy. I loved it. It felt so real…next time I'm at the ocean I'm going to be on the lookout for creepy ghosts playing violins. I still want to visit the Isle of Man though.
Rating
:
4/5 stars. There were some things I felt were too easily explained away, like some things about Fynn. Some things I felt happened too easily…like once Bridey got over her fear, suddenly she was a grand rescuer…but they were small things, and adrenaline and love do give people almost superhuman strength sometimes.
Blog
|
Twitter
|
Bloglovin
|
Instagram
|
Pinterest
|
Google+